Tile Flooring in Tallahassee, FL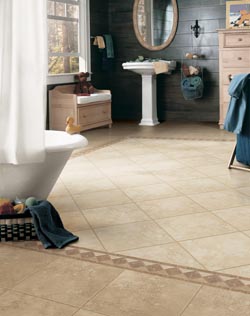 Elevate the look and feel of any area with a floor made of tile. Home and business owners choose tile flooring for its perfect combination of luxury and practicality. The elegance of ceramic tile is combined with an ease of maintenance, and the fine look of porcelain tile is buttressed by its strength as a flooring surface. Both of these attractive flooring styles are known for their versatility and affordability.
Come to our flooring showroom to experience our wide variety and stunning collections of tile flooring in Tallahassee, FL. Our sales and design professionals will show you a variety of materials, styles, colors, and patterns to grace your home. Once you have made your choice, our trained installers will gladly provide you with tile flooring installation for long-lasting beauty. We are happy to guide you every step of the way, from design to selection to installation.
Affordable Tile Flooring
Find the right fit in cost and appearance. Tile floor proves to be an affordable option that adds to the total value of your property. You can get a positive return on your financial investment when you choose from our competitively priced floors, which enables you to get more for your money in the event that you ever choose to sell your home.
Our affordable tile floors come in a wide variety of styles, textures, and finishes, which gives you the option to create or match any aesthetic design imaginable. Whether you're interested in a classic or contemporary aesthetic or you prefer the look of a high-end floor, such as marble, hardwood, or granite, you'll find the perfect solution when you visit our showroom.
Stylish & Durable Tile Floors
In addition to being a cost-effective flooring solution, our ceramic tile offers style and durability in any room where it is installed. Our flooring store provides an extensive selection of color palettes in ceramic tile, as well, ranging from pale tones to complementary neutrals, as well as warm yellow and orange hues. To the delight of any interior decorator, our ceramic tile also comes in an assortment of sizes, shapes, and textures, which provides additional flexibility and increased design potential. It also requires less maintenance than some other materials and withstands moisture, scratches, and stains. Ceramic and porcelain tile both offer all of the following benefits:
Moisture Resistance
Stain Resistant
Scratch Proof
Low Maintenance
Strength & Beauty
Keep Your Home Healthy with Tile
Tile floors not only provide a stylish foundation for any interior renovation, but also contribute to a cleaner indoor environment anywhere that they are installed. Both ceramic and porcelain tile make excellent choices for homes in which a family member suffers from allergies or asthma. Neither of these flooring materials has fibers to conceal allergens, dust, or mold, which makes them a healthy option for any flooring project.
Tile Floor Installation from Our Professional Contractors
After you've selected the tile that is the best match for your home and budget, rely on us to install your new flooring for you. Our skilled and experienced installers are trained in the proper installation of tile and ensure the lasting beauty and performance of your new floor. You can be absolutely certain that your tile floor's lines will be straight, flat, and balanced. By efficiently laying your tile in the correct manner, we ensure that you'll be able to enjoy its durable construction and appeal for many years to come.
Contact us today to learn more about our tile floor options and installation services. We serve the communities of Tallahassee, Monticello, Wakulla, Crawfordville, and Quincy, Florida, and the surrounding areas.