Laminate Flooring in Tallahassee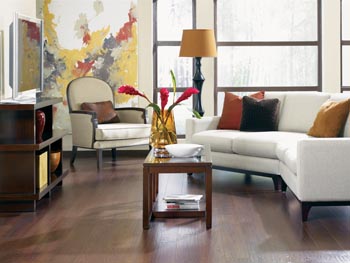 Laminate flooring offers home and business owners the luxury look of tile and hardwood, but with greater versatility and cost-effectiveness. For our customers who want to floor homes with tile or natural hardwood, we provide a cost-effective laminate floor that looks every bit as beautiful.
Come into our flooring showroom to see a wide array of flooring samples in numerous laminate options. We have design and sales professionals on hand to show you samples and offer you product information. Once you have decided upon the laminate that you like for your home or business, ask us for laminate flooring installation. This ensures you can enjoy living on your laminate floor coverings for a long time to come.
Find a wide array of laminate floor options in our family-owned flooring store. We carry brand-name products from respected manufacturers to provide our customers with flooring that offers style, quality, and durability. Choose from porcelain, ceramic, or stone laminates that look exactly like the real thing.
Laminate flooring consists of multiple layers for beauty and performance. Protected by a top layer of clear aluminum oxide is the all-important design layer. This is what makes laminate looks so stunning. This layer contains a high-resolution picture of the tile of your choosing. Other layers consists of a core of high-density fiberboard and a moisture-resistant back.
Moisture-Resistant Laminate Wood Flooring
Choose laminate flooring to experience the glory of a hardwood look-alike that resists moisture. Look over our wonderful selection to see wood laminate with all the details of hardwood that you seek – the grain, the whorls, and the variation. Select laminate plank flooring in the colors of the forest and the luster of real wood.
One of laminate's most popular qualities is its resistance to moisture. This is due to the layered construction. Let us install laminate throughout your house for this flooring option is not limited to dry rooms. Laminates perform well in areas where water is present, such as the kitchen and bathroom, as well as spaces where the moisture levels are high, such as the basement.

Laminate Flooring Installation for Long-Lasting Floors
Invest in the longevity of your laminate flooring with professional installation. The brand-name laminate that you have just purchased from our flooring store provides added appeal and durability with proper installation. The installation experts at our store have years of experience in laying laminate floors. We ensure that your flooring is installed over a clean, dry, and level surface. Each piece is placed carefully so that is lays flat and adheres securely. This protects the individual pieces from shifting, cracking, or breaking.
Count on us to do a thoroughly professional job of installing your new flooring. We have complete confidence in our personnel, products, and services. That is why we offer our customers our Ultimate Guarantee that lets you know we stand behind our products. For flooring service, we provide our customers with a Lifetime Installation Guarantee. This is our promise that if you have a problem with your flooring, our staff comes to your house to make it right – at no expense to you.
Contact us today for a free estimate on flooring that can transform the appearance of your home. We proudly serve customers in Tallahassee, Florida, and surrounding areas.