Hardwood Flooring in Tallahassee, FL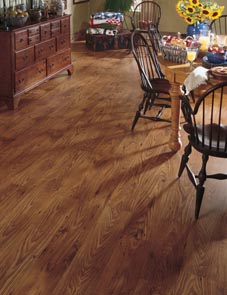 Add warmth and beauty to your home with hardwood flooring in Tallahassee from our stunning collection. Hardwood floors make your home attractive and welcoming, plus they are easy to clean. We help you create an entirely new look in your home with brand-name flooring at prices that fit your budget. In addition, we offer professional hardwood flooring installation that ensures the long-time protection of your investment.
The Visual Characteristics of Hardwood
Hardwood flooring is a timeless choice because its design and qualities never go out of style. With an abundance of character and elegance, wood floors are the ideal starting point for your new construction or remodeling project. You are destined to find a style that reflects your taste among our diverse inventory.
A Wide Selection of Affordable Flooring
Visit our showroom to see a full selection of hardwood floors with affordable prices in any species, size, or finish you want. With many hundreds of locally owned stores in our network, we use our significant buying power to your advantage.
As you shop through our floors, one of our specialists can help you choose the best options that meet your specific flooring needs. From prefinished hardwood flooring to walnut hardwood floors, we are available to offer guidance every step of the way. Our collections include hardwood floors categorized by the following characteristics:
Color and wood type
Construction and size
Glosses and look (i.e., parquet or hand-scraped)
The Beauty & Durability of Solid Hardwood
You get exactly what the name says when you opt for solid hardwood flooring. This type of flooring is crafted from the finest solid wood available. Birch, cherry, maple, oak, and walnut are just some of beautiful and durable hardwoods in stock for your flooring needs. They come in various widths, lengths, and finishes that allow you to create distinctive wood floors. Both prefinished and unfinished planks are available, so choose the style that suits your needs.
Engineered Wood Flooring That Lasts Long
Composed of multiple layers, engineered hardwood flooring is designed to withstand high humidity. Use this wood throughout the entire home including bathrooms, kitchens, and basements. Because engineered wood flooring is made from hardwood with a stable backing, it can move naturally without bending or cracking.
Decorate with Eco-Friendly Bamboo Flooring
Bamboo is one of the more stunning types of hardwood flooring. Strand bamboo is twice as hard as oak, which makes it especially tough and perfect for use throughout your home. Bamboo grows fast, so it has minimal impact on the environment as a flooring resource. It can also be recycled for use as flooring in other applications.
Cork Flooring for Walking Comfort
H
Another excellent choice for green flooring is cork. No trees are cut down to produce this environmentally friendly flooring option. Cork flooring is made by peeling the bark off the tree. It has a cushioned consistency that makes it comfortable for you to walk on. Additionally, this type of flooring acts like natural insulation, so it keeps your home's interior at a comfortable temperature.
Wood Flooring That Fits Your Space
Create a classic or modern look in your home with our variety of hardwood flooring. Our selection includes any species of wood you want in styles that include:
Strip Flooring: Adds a traditional look while making the space seem larger. Strip flooring comes in strips that range from 1" to 2.5" and in thicknesses of 5/16" to 3/4".
Plank Flooring: With wider strips-from 3" to 8"-plank flooring is noted for its earthy appeal and complements a room décor with antiques or historical items.
Handscraped Flooring: Trending today, handscraped flooring offers an appealingly timeless feeling enhanced by the advanced urethane finishes popular today.
Wire Brushed Floors: As charming a style as any but with a quieter application of the look of distress and enhanced appeal with innovations in urethane finishes.
The Convenience of Hardwood Flooring Installation
Depend on experienced and trained professionals to perform your hardwood flooring installation. We ensure that your floors are installed efficiently and correctly the first time.
We have the utmost confidence that you will love your hardwood floor, but we know that sometimes, for whatever reason, the flooring may not be what you expected. Our Assurance Guarantee means if you are not satisfied with your new 4-Star or 5-Star floor, we replace it with another of equal or lesser value.
We confirm that promise to you when you choose your quality product and enjoy the excellent service we provide. Expect to receive stylish and lasting flooring along with first-class customer service when you visit our showroom for your decorating needs.
Contact us for hardwood flooring that enhances every room in your home. We proudly serve customers in Tallahassee, Monticello, Wakulla, Crawfordville, and Quincy, Florida, plus the surrounding areas.