Floor Care and Cleaning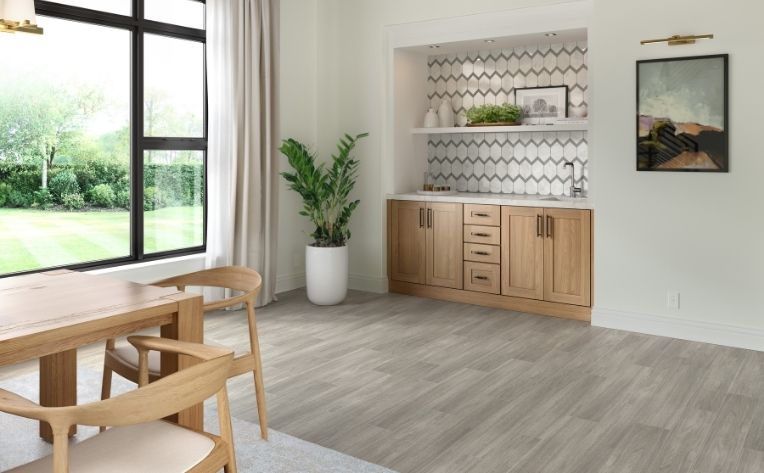 May 12, 2021
Floor Tips and Tricks for Plant Parents
Plants are basically low-maintenance pets. They don't quite have the same attitude as cats, and they might not like belly rubs as much as your dog, but they can still be messy! And when it comes to plant-related messes, your floors will often take the brunt of it.
Make Your Plants and Floors Happy
When searching for the right pot for your plants, leafy friends thrive in un-glazed terracotta clay pots that are well-drained, which means the pots have a hole in the bottom. Next, you need to make sure your plant pot also has a saucer, so when you water your plant, any excess water gets caught by your saucer, not by your floor.
Despite best intentions, saucers often are still not enough. The same reason that plants like terracotta clay pots are the same reason they're hazardous—these pots are porous. When water is poured into your plant pot and drained into the saucer, this porous material becomes wet and can leave water rings, which can potentially cause the rotting of wood floors. Plastic trays, small cork coasters, hanging plants, or lifted metal stands are great solutions to keep your floors dry and your plants happy in their preferred type of pot.

Moving Plants Is a Drag
Whether your floors are hardwood, tile, laminate, or carpet, you will want to avoid dragging your plants across your floors. This will help reduce scratches, scuffs, and stains. If you are looking to move a heavy plant, find a friend to help you lift it or a small wooden plant dolly, which are great solutions and a nice design element.

Overwatering Can Kill Plants and Floors
Despite best intentions, overwatering plants is easy to do and can result in water overflowing out of your saucer and onto the floor. Cleaning up the water right away is a solution to this problem, but so are waterproof floors. Sometimes even when you do your best to clean up plant messes, water can get stuck underneath cork coasters or plastic trays, creating those damaging watermarks. Waterproof flooring can handle excess plant water damage-free.

Plants Have Benefits Other Than Looking Cute
Although plants can be messy, they provide lots of benefits. They are great décor pieces that also bring natural life and happiness into your space. They can also help reduce stress, increase concentration, and improve the air quality in your home. When considering a pet, a pet plant is a great option.

You're the Plant Expert, We're the Flooring Experts
Whether you are looking for floors that go with your plant-loving décor or waterproof flooring that will help protect against your plant messes, Flooring America experts are here to help. Come into your local Flooring America today, and let the experts assist you in creating a space full of light and life for all your new plant friends.
Continue Reading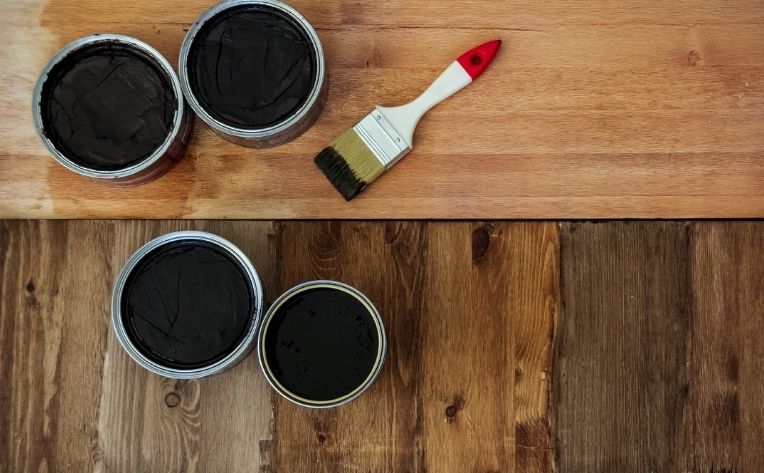 Apr 14, 2021
Gleaming hardwood floors are every homeowner's dream. The question is, what do your hardwood floors really look like? If you want to make sparkling floors your reality, we can help.
Consider a Deep Clean
Dull hardwood floors are, well, dull. But before you decide to invest money and time into re-sanding or refinishing, consider that maybe they just need a good cleaning! It's amazing what a deep cleaning of wood floors can do to their look and shine. A soft broom, vacuum, and mop combo can go a long way for short money.

Too Many Scratches
A wood floor that is deeply scuffed up and scratched will most likely need re-sanding. But, before you opt for that route, consider pricing out replacing your floors with ones that have scratch-resistant properties. Wood floors from brands like Floorcraft are famous for their durability and family-friendly styles. All in all, replacing your hardwood floors with brand-new flooring could save you money down the line.

Beware the DIY
DIY projects are tempting money savers. But before you take on the task of refinishing your hardwood floors by yourself—that is, sanding your floors, patching, staining, and then top coating—make sure you're aware of both the time investment and the need for expertise in these areas. Do you really want to both rent and operate an upright sander? As you may discover, sometimes cheaper is not always better! If you decide to go with the experts, make sure to research companies near you, browse reviews, and ask by word of mouth. Price-wise, expect that refinishing hardwood floors will cost you somewhere between $3.25 to $6.00 per square foot, all depending on the location of your home and the size of the room, or rooms, you're refinishing.

Flooring America Knows Hardwood
The best way to prevent the headache of having to refinish your hardwood floors is to purchase floors that will stand the test of time in the first place. So whether you're looking for beautiful oak or pine wood floors, remember that your local Flooring America has all the best wood floor brands in stock, not to mention amazing wood-look tile and luxury vinyl options as well. The experts at your local Flooring America are always here to help, and they can give you all the advice you need about maintaining your beautiful hardwood floors for years to come.
Continue Reading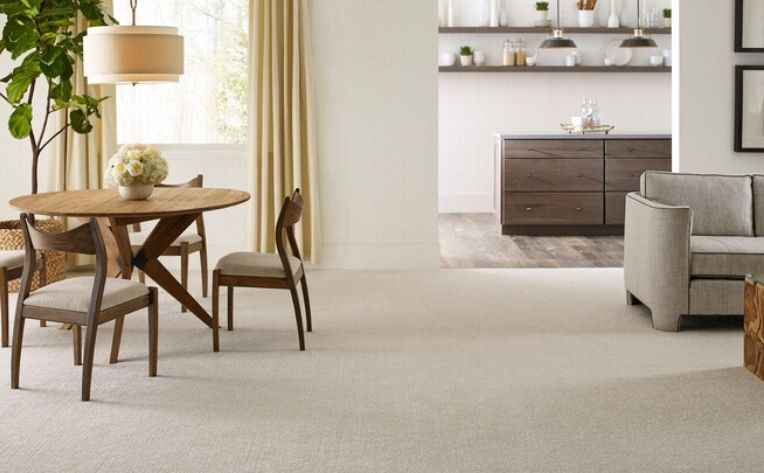 Mar 22, 2021
With all this time being spent at home, it's given a whole new level of meaning to "high-traffic areas." Office chairs can have quite the effect on your floors, as you probably have noticed. Thankfully, these days, there are a lot of great options to choose from when it comes to finding floors you love for the high-traffic areas of your house. Although hope is on the horizon for getting things back to normal, many of us will likely still be spending more hours at home.
Long-Lasting Luxury Vinyl
Both hardwood floors and engineered wood floors are beautiful and elegant flooring options—and, it's true, more durable than ever. (For instance, Aquadura H2O now has a hardwood option that is waterproof.) But if you're looking for the best durability possible (hello, pets and kids), luxury vinyl flooring is hard to beat. Mimicking the look and feel of hardwood—but both less expensive and able to withstand much more wear and tear—many homeowners love luxury vinyl floors for the heavy traffic areas of their homes, such as kitchens, mudrooms, and entryways. Still have your heart set on hardwood? No problem. Just lay down some area rugs—and tell your kids to take their soccer cleats off by the front door!

Carpet's Come a Long Way
Carpet has come a long way over the years, and now it's a great option for the rooms in your home where your friends and family love to gather regularly. Think about your living room, basement, or den, for example. And when it comes to peace of mind for high-traffic areas, nothing can beat a stain-proof, spill-proof, and pet-proof carpet option like Stainmaster, or brands such as Hearth & Home that design carpets that are both cozy and durable. Now you don't have to stress out about that spilled drink at a party or everyone in the house running amok. Comfortable carpets that are also perfect for your family's busy lifestyle are within reach.

Time-Tested Tile
Tile is another great, long-lasting option for active families that don't want to stress out about the wear and tear on their floors. Tile is waterproof, scratch- and dent-resistant, not to mention beautiful. Another great idea for the high-traffic areas of your home, especially if you're watching your budget? Laminate flooring. Laminate flooring looks better than ever these days and comes in many eye-catching styles that can even mimic natural stone tiles. Our brands, like Floorcraft, are super durable, holding up extremely well to heavy traffic, stains, and general wear and tear.

Flooring America Understands Your Home
As you decide on flooring for your home, it's safe to say that you and your busy family likely want long-lasting floors that are as stress-free as possible. The experts at your local Flooring America understand this, and are here to offer suggestions and helpful tips as you decide on the best new floors for you. Whether you're looking to redo your kitchen or bathroom, or you'd like to give your entire house a flooring overhaul, look to Flooring America to help you find the perfect floors that will literally support the life you want to live.
Continue Reading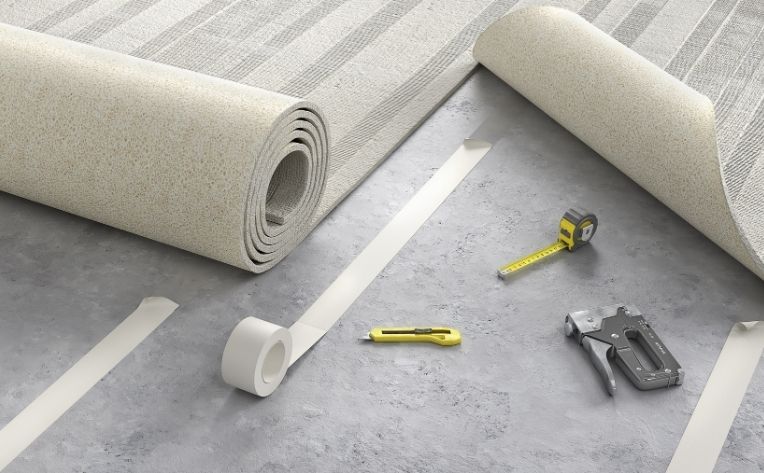 Mar 03, 2021
Many of us are on the lookout for ways to save—both time and money. And when it comes to your home flooring, the same mindset often prevails. As a result, many people wonder how easy a DIY flooring install job could be. Tackling an install job of new tile in your kitchen or a new carpet in the basement should be no problem, right? Turns out, the steps to a DIY floor install can actually be pretty complicated. Thankfully, there are many great options for easy-to-install flooring that professionals can get done in no time.
Low-Key Luxury Vinyl
Luxury Vinyl flooring continues to gain popularity, and this is not just because of its durability, great price point, and beautiful styles. Luxury vinyl flooring is also one of the best types of flooring for an easy install process. Since many luxury vinyl floor styles come in planks, they can easily be installed with a click-and lock-system over your floor's sublayer; it's what's known as a floating layer. However, even though this install process is somewhat easier than installing, say, real hardwood floors, the professionals at Flooring America not only can do the job well for you, they can do it much faster!

Tile and Carpet: For the Pros
Tile is one of the most stunning and durable floor choices to have in your kitchen, bathroom, or laundry room. Tile is waterproof, long-lasting, but, as it turns out, not the easiest flooring for a DIY job! When installing tile, one must keep in mind the issue of perfecting grout, too, which is no easy task. Carpet is another flooring option that is best left to the pros. This plush, beautiful stand-by for your living room is no joke when it comes to installation, as the tools and steps required for carpet-installing can be especially complicated for flooring newbies.

Peace of Mind—And Time
When it comes to purchasing new floors, it can be tempting to want to take on the install job yourself. But unless you're truly the handiest (and most patient) person you know, it's an experience that is best left to the professionals!
Thankfully, the folks at your local Flooring America are here to answer any questions you might have about the install process and their approach to getting your new floors installed as quickly and reasonably as possible. Give them a call or stop by in-store today!
Continue Reading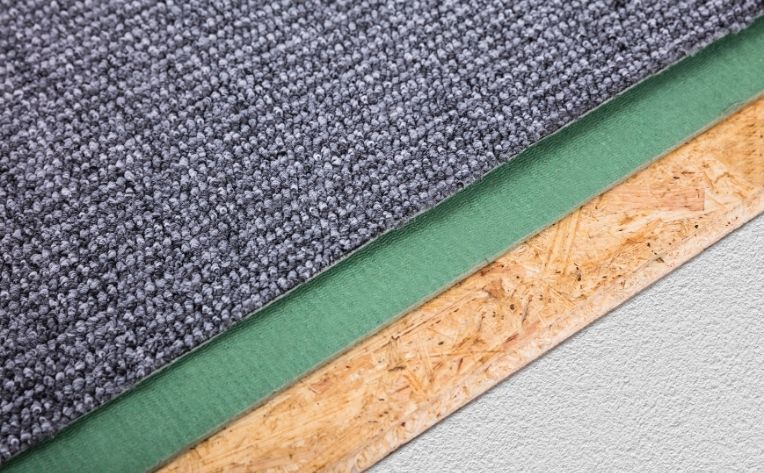 Feb 17, 2021
When you're installing new wall-to-wall carpet in your home, there's one thing you can't forget about: carpet padding. Carpet padding (also called carpet cushion) has an array of important functions, impacting both your carpet's appearance and its long-term performance. If you've ever wondered what goes under your carpet, or why it's critical to have carpet padding in general, here's what you need to know.
Protecting Your Carpet—on Both Sides
One of the most critical aspects of carpet padding is the protection it provides. Simply put, carpet padding will help your carpet last longer. Carpet cushion or padding works to protect the under layer of your home's carpet from wearing against the base floor the carpet lays on top of. It also protects the top layer of your carpet from furniture indentations and the wear and tear of foot traffic. Without a carpet cushion or padding underneath your carpet, you'll end up with a frayed and worn carpet—on both sides. And you will need to replace it much sooner.

Softer Feel
Another important benefit of carpet padding is the key insulation it provides. This is not only a great benefit when it comes to retaining heat in your home—carpet padding really does help with those pesky heating bills—but it's also an important factor when you're considering sound insulation, too. Are you thinking of re-doing a basement, or turning a den into a game room? Make sure to put a carpet pad under that carpet, and your teenage daughter's drum kit won't be quite so loud anymore. Even better? Carpet padding creates a great soft underfoot-feel.

So, What Is Carpet Padding Made Out Of?
Carpet padding is made from rubber, foam, or fiber—forming a sponge-like material. It's usually purchased in a roll or pad, and laid out underneath your carpet; sometimes it will be cut into shapes to fit specific corners of your home. Another benefit to a good carpet pad? Further protection—and waterproofing—for your floors. Though many carpets on the market today such as Stainmaster, offered at Flooring America, are very durable and waterproof, a big leak or flood in your home could be costly. Having that extra layer of padding underneath your carpet as a moisture barrier can pay off in a big way.

Do I Need to Buy the Thickest Carpet Pad?
One might assume premium carpet padding must mean buying the thickest carpet padding on the market, but this is not always the case. Thickness in carpet padding definitely pays off in rooms where kids will be playing on the floor a lot, or if you plan to be doing a lot of hosting and standing up in your carpeted room. However, too much thickness can be a pain if you want to move furniture around frequently, or if someone in your family uses a wheelchair. It all comes down to finding the right fit for your lifestyle.

Is Carpet Padding Expensive?
Considering how important carpet padding is to the longevity of your carpet, it's a relatively inexpensive (dare we say essential) investment for your home. Carpet padding is usually $3 or $4 per square yard, and sometimes a bit more for professional installation. However, with all the benefits that carpet cushioning brings to your carpet's overall performance and your enjoyment of it, you'll be glad you said yes.
Need More Help?
Elegant and comfortable carpeting makes a wonderful addition to your home. So whether you're thinking of adding a new carpet to your living room, bedroom, or basement (or perhaps all three!), be sure to check out the amazing selection of beautiful and budget-friendly carpets at your local Flooring America. The experts at Flooring America are here to offer their insights and advice into not only the best carpet for your home, but the best carpet pad for your new flooring.
Continue Reading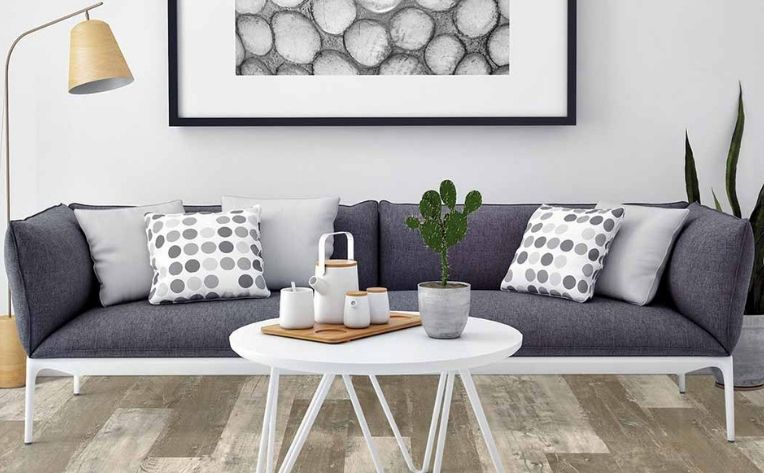 Feb 15, 2021
With the modern—aka very busy—lifestyle we all live today, the last thing most homeowners want to do is stress out about cleaning their floors. Yes, beauty matters, but so does the peace of mind of a floor that's not high-maintenance. With that in mind, here are some of the best flooring choices to look into for the life you want to lead.
Tile Is Tidy
Keeping tile clean is pretty easy, which is why it's such a popular choice for kitchens, where frequent foot traffic and plenty of spills are simply a part of every day. Regularly sweeping up loose debris, and then mopping your tile floors—whether your tile floors are in your kitchen, bathroom, or entryway—should get it done in no time, and, of course, any major spills on tile should be wiped up right away with a paper towel or cloth rag. Heavy duty mopping and scrubbing are usually only required on tile floors when stains have been allowed to set in the grout for too long.

Hardwood Makes It Look Easy
The enduring popularity of hardwood floors is for good reason. Not only are hardwood floors timeless and versatile, but they are also easy to clean. Most hardwood floors are sealed with a finish, meaning a good dusting or vacuuming, followed by dry mopping, is all you need to clear away residue and leave your hardwood floors gleaming. Flooring America offers a great variety of hardwood options, including top-sellers like Floorcraft—hardwood floors known for being scratch-, scuff-, and stain-resistant so that care and maintenance is kept to a minimum.

Luxury Vinyl Cleans Up Nice
Luxury vinyl flooring continues to boom in popularity, and it's not just because luxury vinyl floors can so easily pass for real stone and hardwood these days, at a fraction of the price. Cleaning luxury vinyl floors is also quite easy! Much like tile, your upkeep of luxury vinyl floors will usually be just a matter of sweeping or vacuuming to pick up any dust or residue, followed by a good mopping or dusting job. Flooring America carries an assortment of beautiful, durable luxury vinyl flooring options like Galvanite so be sure to check them out if you're looking for stunning yet practical flooring.

Carpet Comes Clean
When it comes to cleaning, carpet can get a bad reputation for being a high-maintenance flooring choice, but as long as you stay on top of your vacuuming-game, carpet can be a cinch to take care of. Regularly vacuuming your carpet—multiple times per week for high-traffic areas, and less often for areas of the house that see less family action—means that the long-term upkeep is minimal. Worried about stains? Flooring America carries a variety of low-maintenance carpet brands like Stainmaster carpet, which is the perfect option if you're seeking a carpet choice that is spill-proof, pet-proof, and kid-proof—aka a lot less stress about keeping things clean!

Laminate = Low-Maintenance
Laminate flooring, similar to vinyl flooring, is also a great option if you're in the market for floors at a reasonable price that also offer cleaning ease. Sweeping your laminate flooring, followed by mopping, is usually all that's required to keep things spic-and-span. However, as laminate floors are made partly out of fiberboard, you'll want to avoid cleaning laminate flooring with water, as this can occasionally cause laminate floors to warp. For a laminate floor owner, a dust mop is your best friend. And if you get a scratch on your laminate floor? Try using some mineral oil to buff it out.

Need More Flooring Help?
Beautiful new floors should capture your attention but not take all your time to keep them looking great. Thankfully, no matter what type of room or flooring you're in the market for, Flooring America has plenty of options that will meet your needs for low-maintenance, easy-to-clean floors. Visit in-store or online today with any of your thoughts and questions; the folks at Flooring America are here to help.
Continue Reading