Design Trends and Inspiration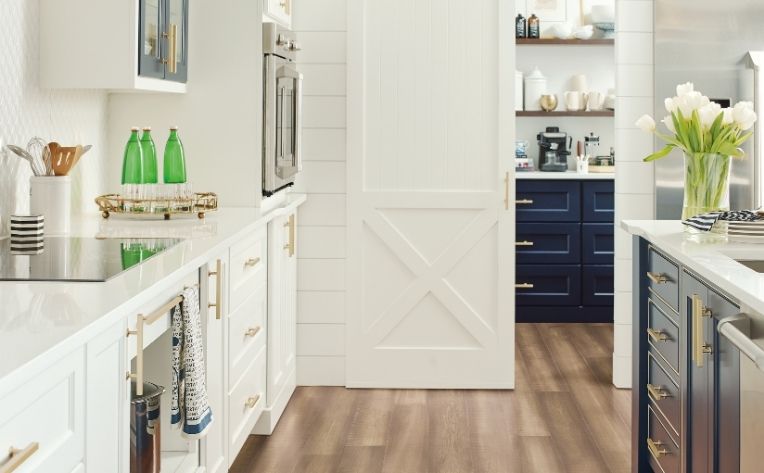 Apr 21, 2021
Farmhouse style brings a vintage feel with a modern touch that makes your house feel more like home. Although cute signage, open shelving, and perhaps a chandelier or two might seem essential to this style, you can't forget about how foundational flooring is.
Hardwood Options
Wood floors seem like the obvious go-to, but of course, there are plenty of options to choose from to make your farmhouse design feasible.
Wide planks are a great option as they bring a rustic more antique feel. When hardwood floors first became popular, milling machinery was not readily available, and thus wider planks were much more affordable and easier to come by. If you're going for this look, 6-to-7-inch planks are an ideal width.
Whether you go with skinny or wide planks, the finish and type of wood you choose definitely matter when it comes to farmhouse design. Avoid orange, red, and yellow tones when choosing the type of wood and stain. These colors can give your room a more dated feel and can make decorating your space more challenging.
Instead, we recommend sticking to neutral wood options inside a gray color palette or a whitewashed one. Domestic wood species like maple, hickory, and oak not only work well for whitewashing, but they are the most popular among the farmhouse style.
Natural hardwood characteristics such as knots, visible grain, and other imperfections are desirable for this design motif. To create this look on your own, try wire-brushed floors.

Luxury Vinyl Brings Style on a Budget
If you love the way hardwood floors look but are on a budget, luxury vinyl floors are a great choice. With such a large array of style options, you will not only be able to achieve the farmhouse style, but luxury vinyl is also waterproof and easy to maintain.
In addition to wood floors and flooring options that look like hardwood, tile also falls under the farmhouse aesthetic. More natural-looking tiles like slate or terracotta are excellent options to achieve farmhouse chic.
Once you have laid the perfect floor, your home will be ready for cute knickknacks, reclaimed wood furniture, and, of course, shiplap!

Consult the Experts on Your Farmhouse Floors
If you need help figuring out what floors fit your budget and your farmhouse design, your local Flooring America store is here to help. These experts can help you decide on the best flooring styles and hues for your space. Give them a call, or stop by your local Flooring America store today.
Continue Reading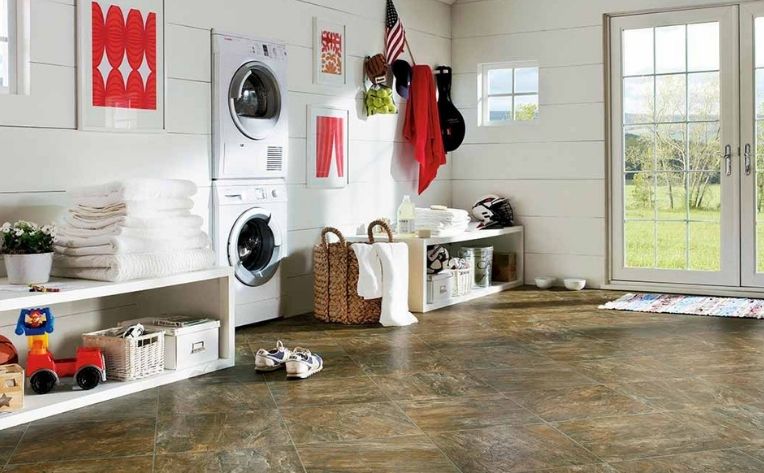 Apr 19, 2021
Mud defiantly comes into the mudroom, but that doesn't mean style, organization, and functionality have to stay out.
To be blunt, mudrooms get muddy. This high-traffic area is often overlooked, but whether you are carrying one too many grocery bags into the house, taking the dog for a walk, or trying to get the kids out the door, having this space be functional is key.
Solutions for Every Space
These spaces vary in every home. Some have an entire room dedicated to being a mudroom; others have a small entryway; some are a shared laundry or garage space. Regardless of what space you are working with, it is easy to let this area become a dumping ground for coats, bags, and shoes. Hooks, shelving, and shoe racks are inexpensive solutions for keeping clutter off the floor. Once the clutter is no longer in danger of being tripped over, you might find that using stylish bins or curtains can keep your items neatly tucked away while still creating an inviting environment.

Functional Flooring
The floor of your mudroom is also an important asset. We have already established that what goes out the door often comes back in. Mud, salt, and moisture will likely be trekking their way into this space. Thus, durable and darker-colored floors are the most functional. The types of floors that might be fitting for this space include tile, luxury vinyl, and laminate. This way, in-between cleanings, your floors still look great despite all of the action.

Picking the Right Color Palette
With darker floors in mind, light walls and accent colors can keep the room feeling open and spacious. In addition, since this is a transitional area of the house, you might want to consider bringing colors from the connecting rooms into this space to create flow.

Final Touches
Benches and small storage units can also be great assets depending on the size of your space. If you are working with a smaller entryway, ditch the added furniture to keep the area feeling airy. If you have room, consider looking for a vintage, freestanding piece that can add functionality and style without breaking the bank.
When you walk into your home, make it feel like home with a warm, inviting entryway that can stand tough to the action of daily life.

Flooring America Is Here
No matter what type of floors you're considering to make your mudroom more functional and beautiful, your local Flooring America store is here to help. New floors, storage, and organization can really make a difference when it comes to creating a space you love. Come into your local Flooring America today, and let the experts help you create the feeling of home as soon as you step in the door.
Continue Reading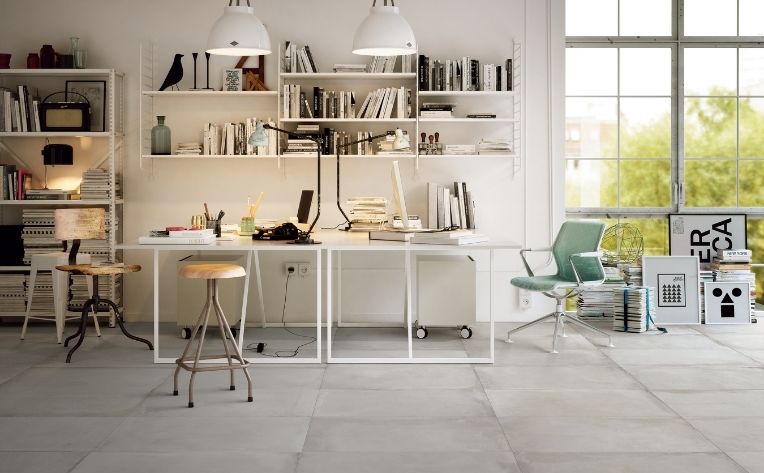 Apr 07, 2021
Working from home used to be the exception, but as we venture further into 2021, it's definitely becoming the new norm. Thankfully, with a little bit of love, your home office can still feel like a destination. And as every great home office starts with even better floors, we gathered together our favorite WFH floors and design tips so that you can keep your creativity high and your stress low, even as the emails flood in.

Hardwood Harmony
Hardwood floors are a classic choice for an office, but they can be a modern choice, too, depending on your decor. If you want, choose to add a small bold area rug or floor mat to your office, or you can opt to let your floors shine alone. Either way, hardwood floors in your office will create the clean, calming space you need to settle in and get stuff done. Details like a new lamp or desk can also help you warm things up. Even better? Hardwood floors are easy to dust and keep tidy.

Low-Stress Tile
What's the perfect floor choice for rolling chairs, working lunches, and coffee spills? Tile. Tile is durable and water-resistant. Plus, with tile, you can enjoy a variety of styles and colors, including tile that looks like hardwood. No matter your vision, tile gets it done, and Flooring America has a wide variety of durable, beautiful options. Plus, if you think the kids and pets will be in and out of your office as well, tile can be your saving grace—unless, of course, your kids do something embarrassing on camera. Tile can't help you there.

Cozy, Comfortable Carpet
When work gets stressful, seek comfort in carpet—choose from a variety of colors and textures to really make your home office a cozy spot. Even better? Carpet is comfy underfoot—no need for slippers. Plus, if you're more into the standing desk style, what better way to enjoy your workday than with cushy carpet under your feet? You can also find waterproof carpet to ensure that it stays clean for years to come.

Lovely Luxury Vinyl
If you're interested in the look of wood or tile but have a lower renovation budget for your home office, then say hello to luxury vinyl. It's highly durable, water-resistant, and softer underfoot when compared to tile and hardwood. Spruce it up with a rug and some bold furniture, and your home office will be the perfect space to settle in and stay productive throughout the day.

Flooring America Is Here
No matter what type of floors you're considering as you look to spruce up your home office, your local Flooring America store is here to help. New floors and some fresh paint (and, let's be honest, maybe a new printer) can really make the difference when it comes to creating a space you love. Come into your local Flooring America today, and let the experts help you create the perfect home office for you.
Continue Reading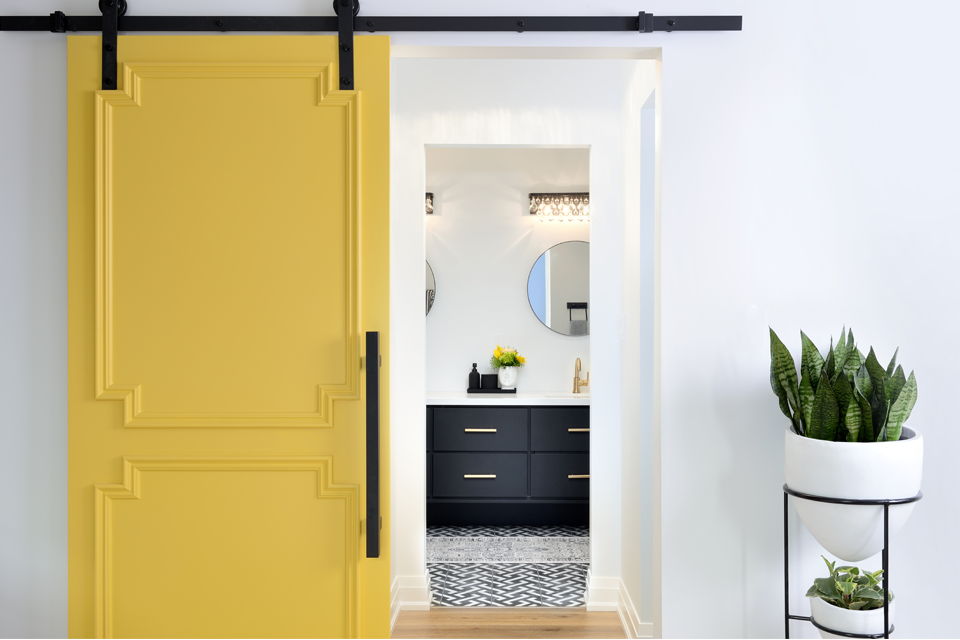 Apr 05, 2021
Today more than ever, our homes are the havens we seek at the end of a long and stressful day. We at Michelle Berwick Design (MBD) see a home like a well-oiled machine; all the parts need to be working simultaneously to operate at optimal capacity—very scientific! When we say all the parts need to be working together, we are referring not only to style, color, and all those pretty things, but also about the floor plan and storage functionality. We want your home working for you, not you working for your home! There are so many ways we can achieve great balance within a space. That said, before the hammers start swingin' and the floors start coming up, take time to plan out every inch of your space to make sure you are not underutilizing what you have to work with. Even if the budget is creeping up, there are still many ways to create that organized, "everything in its place" feeling. The project we are going to be sharing involves all of those elements rolled together to create a space that works perfectly with how our clients live.
Now come on in: this minty home refresh will take your breath away. In this home renovation, color takes center stage, while form and function are the Oscar-winning supporting actors. How you use your home is so important to consider when making any alterations. As a designer, I believe form and function must come first. Great design means the interior enhances how you live. Let me show you what makes this home renovation magical.
The kitchen, they say, is the heart of any home, and we pay close attention to it. We thoughtfully designed this kitchen to meet the homeowners' daily needs. No cabinet was overlooked. Every item within the space has a designated place. Oh yes, even the wine! Adding product-specific inserts to your cabinetry is a simple way to make the space more functional—not to mention you can store twice as much in the same amount of space! No need to make room for a snack grocery haul.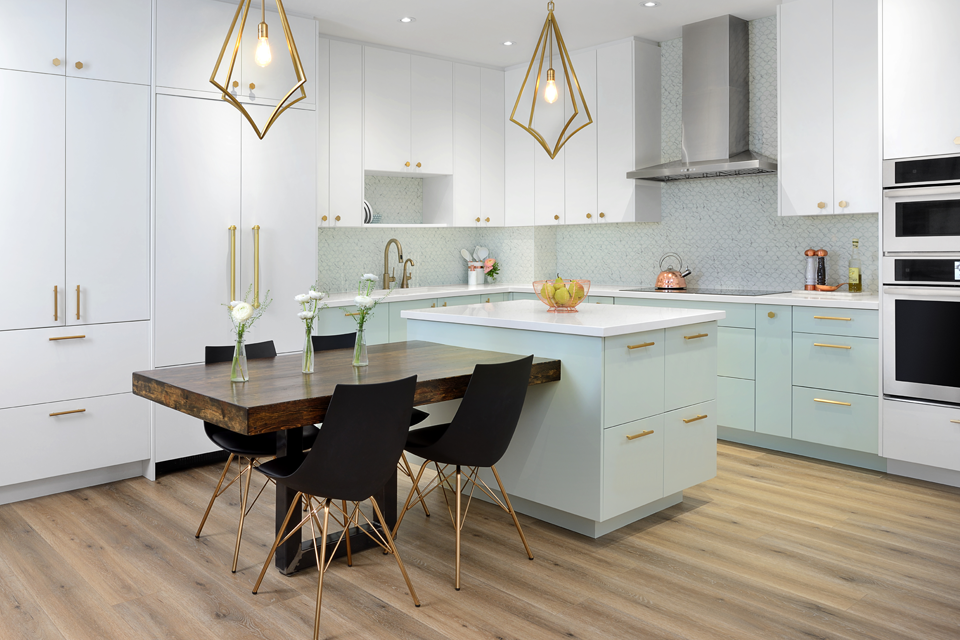 Large base-cabinet drawers provide excellent storage for larger appliances, pots and pans, serving dishes, and even dinner plates! Dinner plates in a drawer? Yes! It's a thing. We designed a large pantry here next to the panel-ready fridge to keep baking and dry goods readily available. Because there are no windows in this townhome kitchen, we designed a plate-rack upper cabinet to sit above the sink. It's not only cute but also super functional, keeping that precious counter space clear.
The cooktop is flanked with oil and spice pullouts for the home chef's convenience. Food tastes so much better when the ingredients are beautifully organized, am I right? A mint island drops down into the homeowner's existing table, which we altered slightly to attach to the island and create an eat-in kitchen area. This lowered table also provides a great prep area for the aspiring little chefs in our lives!
Media storage in a living room is often overlooked. Often, unpleasant black boxes end up being the needed, but unwanted, décor adorning the tops of our media units. Here we designed custom millwork for this family's diverse entertainment needs. A pull-down door with a gold mesh insert housed all media accessories, yet the mesh still allows access with a remote. We met the media necessities, and didn't compromise the style at all. We at MBD call that a win! Media consoles, 0—Team MBD, 1.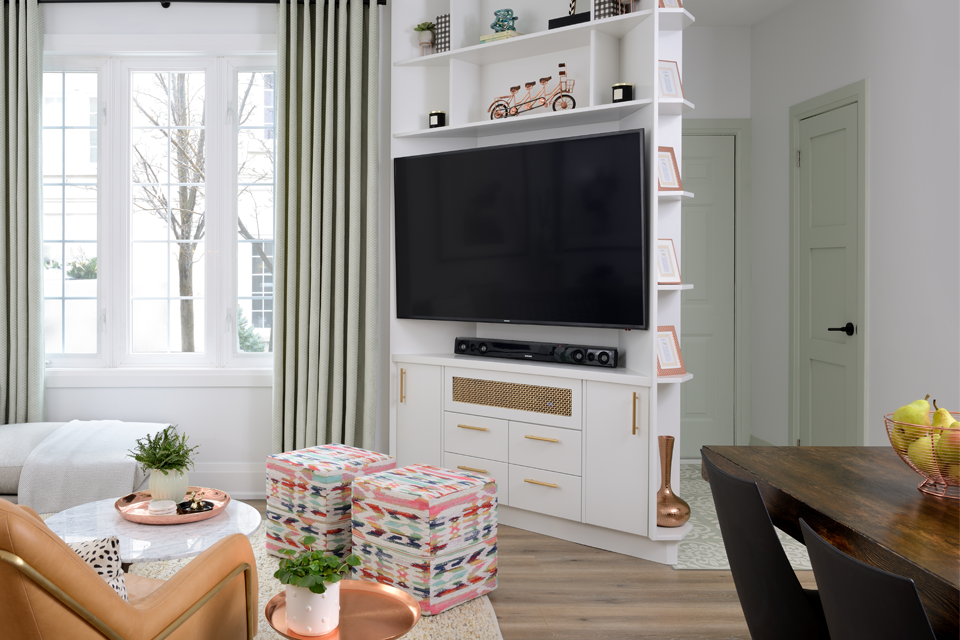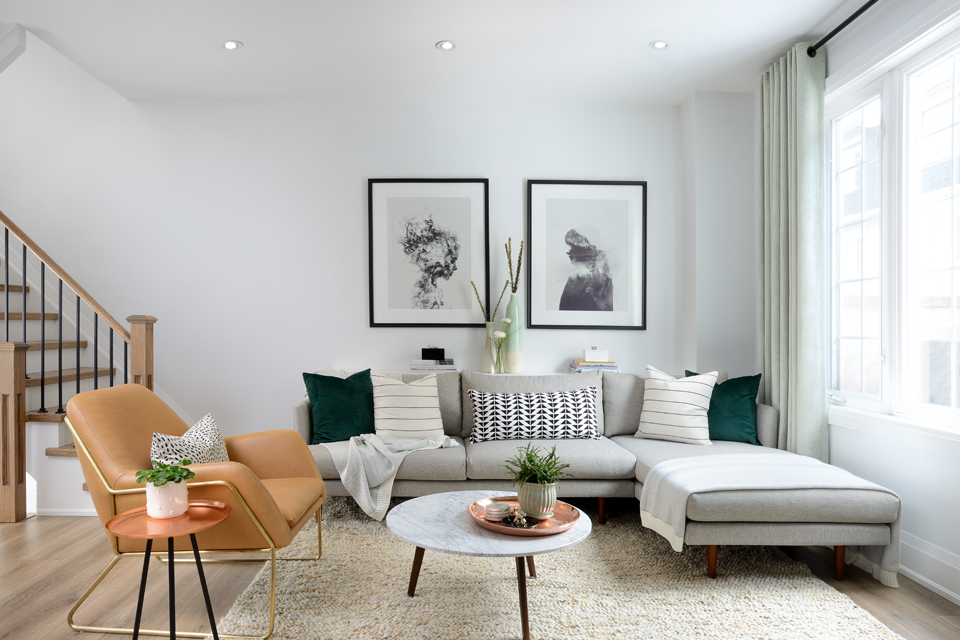 This floor-to-ceiling living room built-in not only houses the media consoles beautifully but also minimizes clutter with drawers for game discs and remotes, as well as other media accessories. Doors allow the homeowners to store miscellaneous items such as batteries and candles because we all know they need a home, too. To add a personal touch to the living room, we included built-in open shelving to showcase travel souvenirs and framed family memories.
In the playroom, it was essential to store craft supplies and toys behind closed doors. Introducing built-ins with tons of storage not only kept things tidy but also gave us a chance to add a touch of pretty through the hardware. A built-in desk for both children to work at will grow with the family. The tall pantry doors enhance the height of the ceilings and make the room feel larger. To keep the playroom feeling light and airy, we gave the built-ins a high-gloss white finish.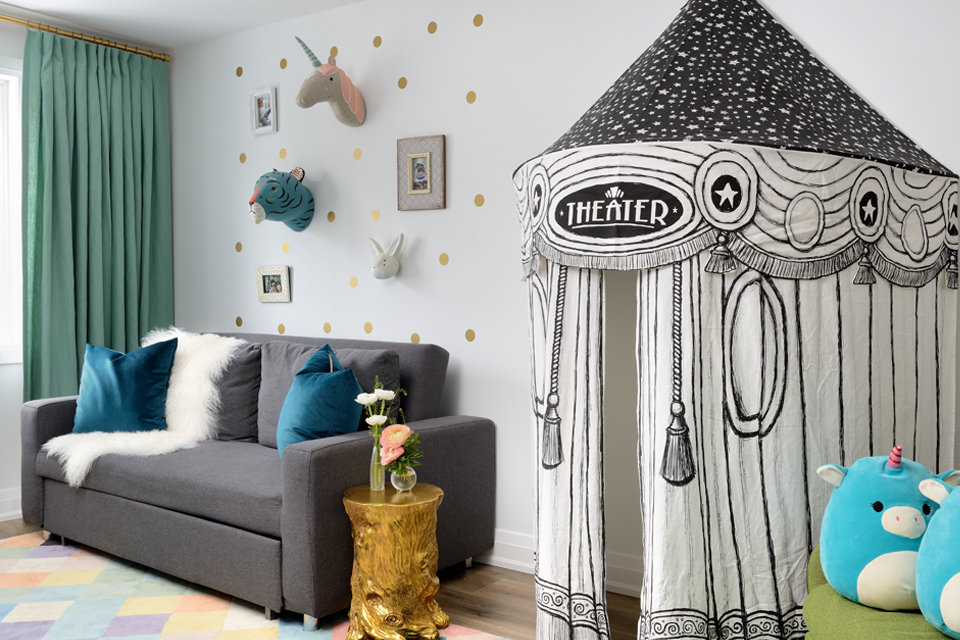 Color is a key way to freshen up your home. Whether you decide to paint your entire home or just add a few new accessories, the impact of introducing a new color will amaze you. One of our favorite ways to add personality to a room is by adding some colorful elements.
At this client's home, the recurring color is mint green. This color came from the front entry tile, which sparked instant joy in the homeowners' hearts. The mint color carries throughout the main floor of this townhome and onto the interior doors, as well as onto the kitchen cabinetry. Sometimes all you need is a jolt of inspiration, and, bam, you have a design scheme!
Why stop at trim and cabinetry with color? Yes . . . we even hit the backsplash grout with mint. Mint grout? You betcha. It ties everything together and really makes this beautiful marble mini-fish-scale backsplash sing. Using one color throughout the home adds cohesiveness and is an easy way to freshen up your spaces.
Bedrooms are spaces where color can run wild to reflect more of your personality. For this project, a sweet shared bedroom, our design inspiration came from an antique rug. Pink upholstered beds, complemented by the pink nightstand, and pink-and-gray drapery bring such joy to this pint-sized space. Pro-tip: when designing any space with a recurring color, it is important to add and play with varying shades while repeating the color in the room to add extra depth and interest within the room.
The master bedroom has no lack of color either! Are you surprised? The trending high-gloss, black-trim wall creates the perfect backdrop for the neutral upholstered headboard. To contrast with the black, a white textured duvet hangs over the bed topped with white and yellow pillows. The bright yellow barn door invites you into the en suite. Hannah Banana is the name of that yellow paint color. Now, if that doesn't make you happy, I don't know what will.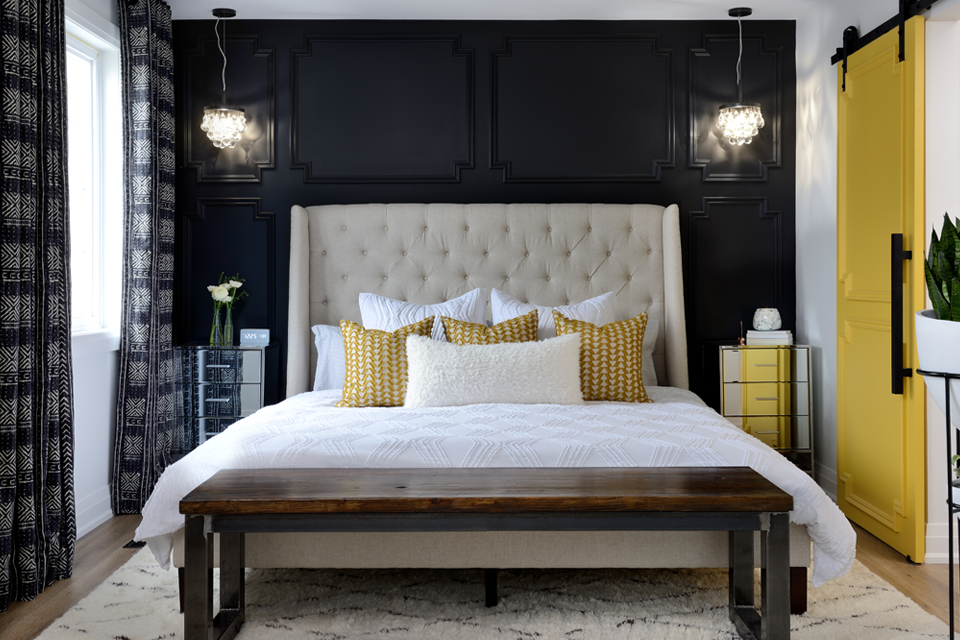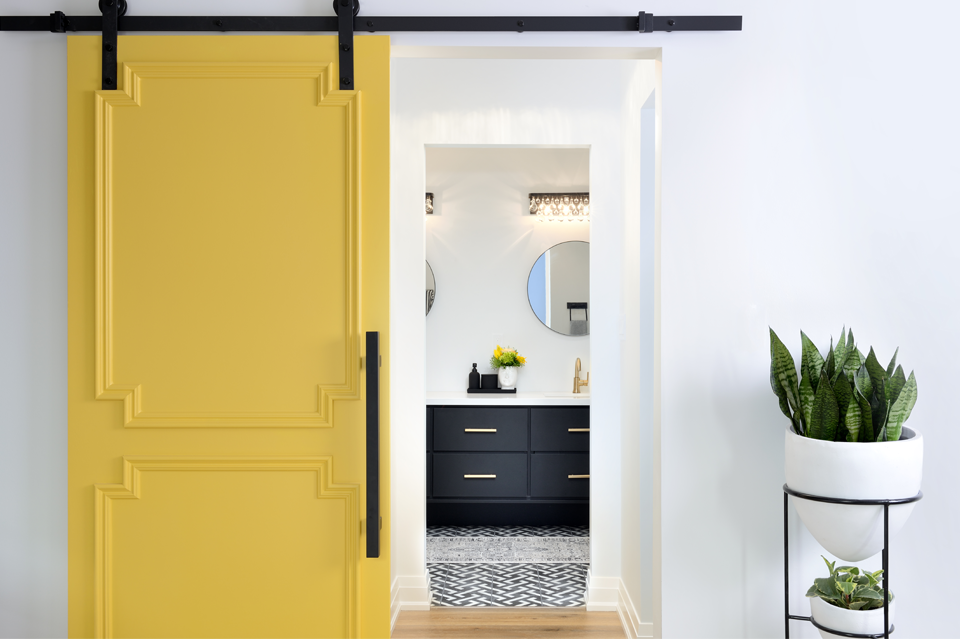 Creating space in your home doesn't necessarily mean demolishing walls. We created space in this townhome by designing custom millwork to ensure every item has a home. Custom millwork can create more function and less clutter, giving you a sense of relief. If custom millwork is outside your budget, simply creating a home for your items in your existing millwork is a great cost-effective option to consider!
Introducing a new color into your home can instantly have you feeling renewed—like adding a red earring and a red lip to your little black dress. Game changer! Our team loves adding color in unexpected places and ways, such as kitchen cabinetry, baseboard trim, and floor tile.
Now consider how you will alter your home this spring to help you feel renewed!
Written by MICHELLE BERWICK
Design by MICHELLE BERWICK DESIGN
Photography by LARRY ARNAL
Continue Reading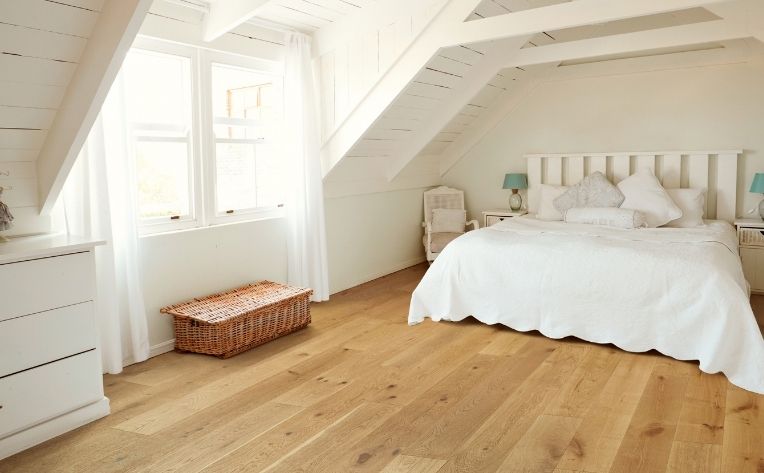 Mar 24, 2021
Refinishing hardwood floors is a big undertaking. Whether you're looking to put your house on the market and get the best resale value, or staying put but would love a new look for your floors, planning ahead is key. Let's walk through some ideas.
The Classic Resell
If you're staining your floors to make your home show better during open houses, we recommend sticking to more classic stain tones like brown or a warm mid-tone, as these are the most flexible colors, and most likely to fit in with the various tastes and décor styles of your potential buyers. Interior decorating preferences can vary greatly, so it's best to avoid trending colors when your ultimate goal is to sell. Classic colors like espresso and dark walnut are great bets and give an instant elegant feel to your floors while still feeling fresh and modern. Light hardwood floors are also growing in popularity. A stain to avoid? Anything overtly red. It can feel quite dated these days.

What's Your Type?
Another thing to consider when choosing a wood-floor stain? Consider the type of wood you're staining. Is it a pine? Oak? Walnut? These are the colors you're essentially starting with and building from. And woods take stain differently, so you'll want to test a piece to make sure the outcome is what you want. Wood-floor stain-color charts are helpful, too. Multicolor stains are also quite popular these days, such as the custom blending Minwax® stains. A 50/50 ebony and Jacobean stain—which can give a very subtle (not overtly!) red tint—is a favorite among homeowners, as is a 50/50 of ebony and dark walnut. Another thing to consider, especially if you're looking for new hardwood floors? Not all wood floors actually require a stain—many wood floors look great in their natural color.

Get Creative
While we recommend that you stick to classic stain colors if you plan on selling your home in the near future, feel free to choose a trending hardwood stain color if you'll be the one enjoying the floors for years to come. Dark, cool tones are still at the top of the list, but there's an uptick in the trend toward brighter stains, such as gray and whitewashed. If you do want a lighter stain, we recommend blonde, as this color has the potential to stick around and turn into a classic floor color. But if you're not selling soon? Get as creative as you want! You could even stain your wood floors a bolder tint with blue or green, or give an eclectic feel by painting them in various designs.

The Hardwood Experts
If you still have questions regarding your hardwood floors, the folks at your local Flooring America are here to help. They're experts in all things hardwood and will help you decide on the best flooring styles, hues and wood species for your family. Give them a call, or stop by your local Flooring America store today.
Continue Reading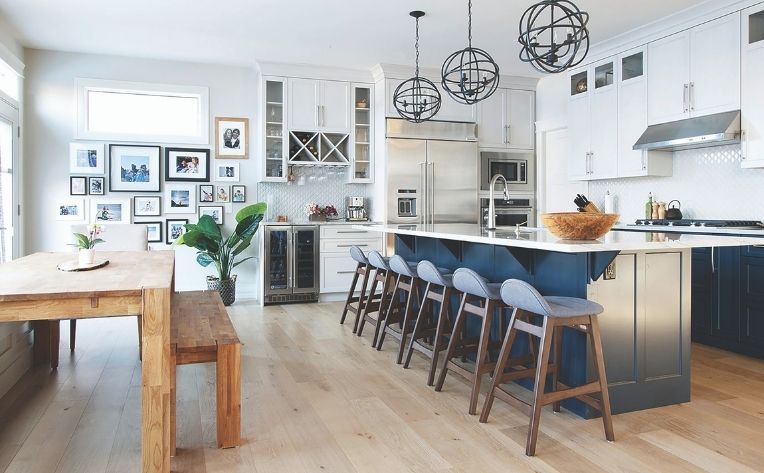 Mar 11, 2021
As springtime blooms in full swing and the weather grows warm, it's time to shed a few layers and update your home décor according to this season's fresh aesthetic. With our latest issue of the Design at Home, you can do just this, shifting your outlook to bright beginnings and letting light into your home with all of our latest exclusive designer interviews, top trending floors and tips and tricks on refreshing your space. Check out the following for a quick teaser on what you'll find in this spring issue.
Styles We Love: Three Spring Moods
This spring our hearts have been captured by three styles: Spanish Inspired, Comfort Chic and Muted Gem. You can easily adapt these spring-fresh looks into your home with new flooring, décor, furniture and lighting. Whether you decide to go all-in on one of these exclusive styles or you choose to mix a few aspects together, check out some of our favorite pieces from each collection and put together a look you'll love.

Taking Carpet to the Next Level
As we seek tranquility and comfort in our home design, carpet is making a comeback. It's a beautiful flooring solution that is both luxurious and versatile. Dive into these incredible carpet designs that dazzle with their patterns, colors and performance. These elevated carpets styles will pleasantly surprise you by adding just a touch of warmth to your space.

Inspirational Multifunctional Spaces
These days, making the most of your living space is crucial, especially as we continue to work, learn and play from home. Making a room into a few curated spaces that can serve multiple purposes is ideal. Perhaps your home office doubles as the dining room table or your bedroom also stores a quiet reading nook. No matter the need, we're delving into multipurpose spaces to nudge your towards some unique ideas on how to make your home more functional.

Finding Joy by Designing With Purpose
Written by Louis Duncan-He, Design and photography by Louis Duncan-He Designs
Louis Duncan is a talented and imaginative designer. In this issue he explores the subject of creating a home design that works for you on a personal level. He'll answer all your questions about planning a design that meets your needs, discussing his specific approach to interior design from start to finish.

Behind the Design: Colorful Function-Filled Renovation
Written by Michelle Berwick, Design by Michelle Berwick Design, Photography by Larry Arnal
Explore a home built by Michelle Berwick that will tickle all of your senses with its incredible bursts of color, intentional storage and features a surprising upcoming design trend: mint. Michelle Berwick Shares behind-the-scenes tips on how storage plays an important role in any design, how to integrate it into your house and how to use a color that you love in unexpected yet visually appealing ways.

Designer Q&A: Inspired Spaces for Children
Design by Sara Bederman Design, Photography by Stephani Buchman
Learn all about how interior designer Sara Bederman chooses elements for each well-thought-out kid's room in this exclusive interview with her. She offers up her expertise on how to add texture, finding inspiration and selecting the perfect color for a child's room, no matter their age.

Simplifying Your Home Decor: Tips
Even though adding more home décor and investing in new design trends is always a fun task, sometimes the best way to create a space you love is by simplifying and removing décor. Discover some helpful ideas on how to enhance the look and feel of your home by simplifying your home décor with these five simple steps.

Style Watch
Here at Flooring America, we are the flooring experts and we've carefully curated a list of ten top flooring trends for 2021. Our Style Watch includes a collection of flooring solutions including carpet, luxury vinyl, tile and more that takes the guesswork out of selecting a floor that fits this year's top trends, features and technology.
Continue Reading